Hi I'm Hannah and am currently in my third and final year of my Bachelor of Medical Science studies. I am a proud Singaporean who loves all my local food and would love to share this joy with whoever reads this post!
SG Local Food Recommendations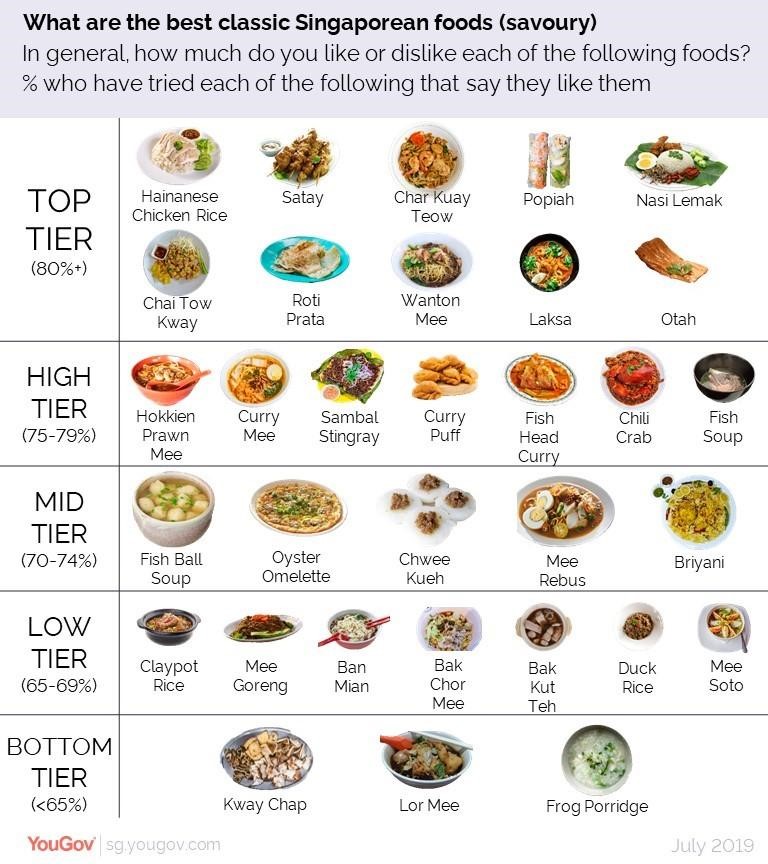 Singapore or SG, as we locals lovingly call her, has four main racial groups: Chinese,Malay, Indian, Eurasian. In our humble beginning as a trading port back in the 19th century (thanks to Sir Stamford Raffles and the East India Company), traders from all over the world brought their delicacies and culture to SG. Over time, the people intermingled, and our traditions overlapped into what we are today. Although our cultural backgrounds are different, we as born and bred locals share at least one thing in common: our love of FOOD!
1Eurasians are children generally children of European settlers who took in a spouse from one of the other three racial groups
Singaporean Laksa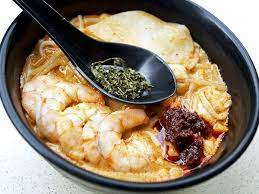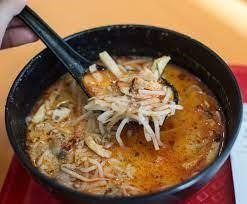 Photos taken from 328 Katong Laksa's Facebook Page; Tripadvisor
My personal favourite that gets my mouth watering just by the mere thought of it is Singaporean Laksa! (I have to be specific here because there are many types of "laksa" in the world and a good number of them come from Malaysia) There are different origins of laksa. Most laksa recipes come from Indonesians or Malaysian locals that intermingled with Chinese immigrants. I for one am eternally grateful that they produced this wonderful dish and brought it to Singapore. With a coconut-milk based broth, prawn stock and laksa paste (which includes a quite a few chillies), this exquisite dish comes coupled with sliced fish cakes, bean sprouts, prawns and tau pok (or beancurd puffs). Traditional Singaporean laksa also is served with thick bee hoon noodles (thick rice vermicelli and only this), as well as hum (the local name for "cockles"). It is topped with an extra dollop of sambal chilli and sprinkles of chopped laksa leaves (aka Vietnamese Coriander). For most people that don't know, the hum/cockles can actually be swapped out for fish balls if you don't enjoy them. I highly recommend this dish for anyone who likes a bit of spice and rich broth in every slurp of noodles that you take!!
Nasi Lemak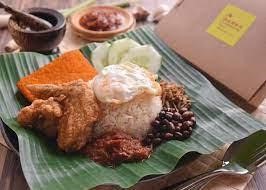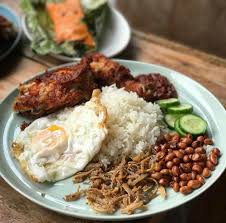 Photo taken from thehoneycombers.com; epochtimes.today Another hot local favourite is Nasi Lemak.
This dish came from the Malays and is a great way to save on some money, although eating this every day won't do any wonders for your calorie intake because of the coconut milk. But anyway! The name "Nasi Lemak" actually stems from "nasi", the Malay word for "rice", and "lemak" is a collective term for anything cooked in or with coconut milk. Traditionally, this dish is packaged in folded pandan leaf and made to look like a huge dumpling.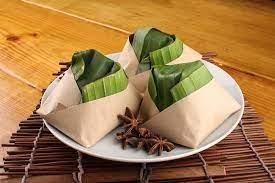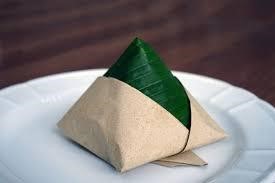 Nasi Lemak folded in pandan leaf and baking paper Photo from theculturetrip.com; stock.adobe.com
The traditional combination of this dish would be:
Coconut milk and pandan leaf-infused rice
Fried egg
Cucumber slices
Peanuts and salted ikan bilis (dried anchovies, a type of fish)
Deep-fried chicken wing or fish (ikan kunning)
A dollop of sambal chilli (we do love our sambal chilli)
Side note: The rice can appear green due to pandan leaf infusion. It is totally normal 😊
These days, the sides you can add to your Nasi Lamak ranges from boiled eggs to stewed vegetables. Fish patties are also a popular choice in some primary school canteens. The shop aunties would usually have a Nasi Lemak combination already ready on her store signs or you could mix and match to your liking. However, do note that some sides cost more than others~ This dish is also Halal.*
(Hainanese)Chicken Rice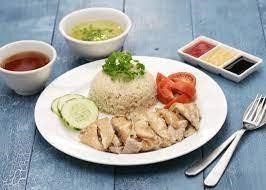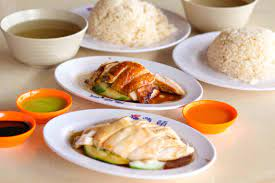 Photo from the honeycombers.com; misstamchiak.com Another local favourite and SG's national dish: Chicken Rice (鸡饭 jī fàn)!
This dish is sometimes called Hainanese Chicken Rice, but we locals just call it Chicken Rice (as what it is). The origin of this dish is rather blurred as some claim that it originated from Hainan in southern China, while others say that it originated from Malaysia. Regardless of origin, this is a much welcomed dish to anybody's table. Chicken Rice usually has slices of cucumber, specially infused jasmine rice (SG gets most of its rice from Thailand, most commonly jasmine rice), steamed or roasted chicken strips on the side and is topped off with parsley or coriander leaves. The three sauces that are available with this dish would be "chicken rice chilli", ginger and dark soy sauce. Chicken rice chilli is unique and comes with a tinge of sour, on top of the spicy punch it packs. The dish also has an accompaniment of soup that is quite addictive as its flavour just adds to the wholesomeness of the meal. Personally, I love roast chicken rice (烧鸡饭 Shāo jī fàn) but steamed chicken rice (白鸡饭Bái jī fàn) is just as delicious. A must-try for anyone visiting Singapore for their first time!
Roti Prata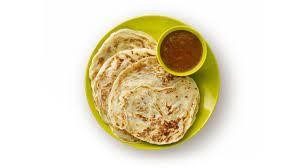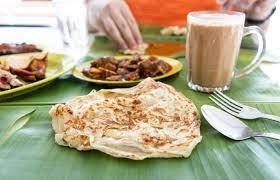 Photo from visitsingapore.com; danielfooddiary.com
Every Singaporean could probably vouch that Roti Prata is a favourite supper time food. Coupled with drink (we will get to Singaporean drink varieties at the end), it also makes for a great meal. The origins of this dish come from India, predominantly the Punjab region. "Roti" means "bread" and "Prata", also spelt as "paratha" by other parts of the world, means "flat" in Hindi. This dish is served with a side of curry without any chunks of meat in it. Be warned that the curries of some shops are a little bit spicier than others. The wonderful part of this dish is the variety that it brings, including the curry. Most of the ingredients that come with the prata are actually folded into the bread itself. The combinations of flavours are endless! One could order egg or cheese prata with chicken curry, or onion and mushroom prata with fish curry. My personal favourite would be the mushroom and cheese prata with whichever curry that is available. The shop usually has a menu that tells you all of the combinations available and even special ones like prata bomb or ice cream prata (try them out if you dare~) When ordering however, you would need to be clear. Otherwise, you might get a single prata that's a combination of whatever you wanted to order as three separate pratas.
Roti John
Another personal favourite of mine that is usually available along with prata is Roti John.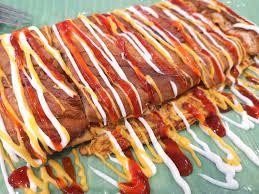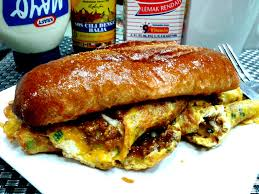 Photo taken from womensweekly.com.sg; tuffdaddynewsnetwork.blogspot.com
Also known as the "baguette omelette sandwich", along with other name variations, it is an extremely filling and large dish to finish. It comes packed with flavour and dripped in a three-sauce combination of mayo, ketchup or chilli sauce and mustard. It is extremely filling (get the pun?) and I recommend sharing between two people if you don't have a large appetite. It is pretty sinful if I do say so myself. Try with caution 😊
It's unfortunately impossible to include all of SG's delicacies in this post. That much is expected when SG is known as a food paradise. I'll put a list of a few unlisted recommendations from the picture at the top of the page, but as a rule of thumb: You can never run out of food options in SG 😉
Steamed Pao of any sort
Char siew pao [steamed BBQ pork buns] and tau sar pao [buns filled with red bean paste] are my usual go-to options. They make for great snacks or quick breakfasts. *If you notice the surface of each pao is different, it corresponds to the different filling inside!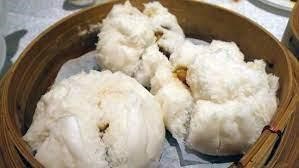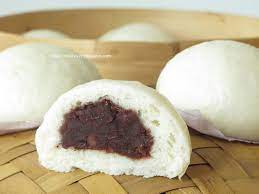 Photo from Tripadvisor.com.au; nasilemaklover.blogspot.com
Hokkien mee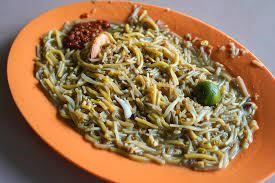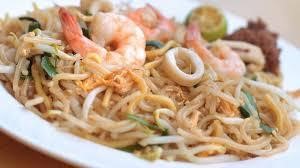 Photo from uncoverasia.com; visitsingapore.com
A mix of different type of noodles and wok-tossed in prawn-based broth. This dish is sure to send your tastebuds to heaven. The lime and sambal chilli add a bit of sourness in every bite that accentuates the flavours even more!
Satay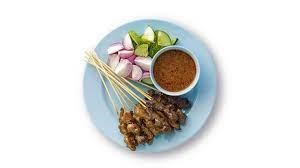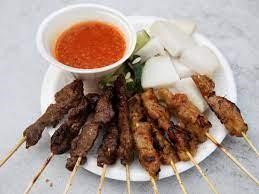 Photo from visitsingapore.com; snigaporelocalfavourites.com
Satay mainly comes in three flavours: chicken, beef and mutton. This dish hails from our neighbours Malaysia and Indonesia and always comes with peanut sauce. This dish is also halal.
Kaya toast breakfast set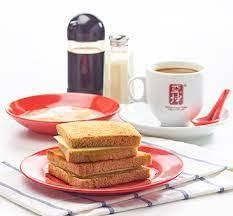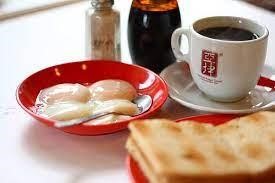 Photo from klook.com; healthyin.sg
Another must try! Our traditional kaya toast set is extremely delectable and just what you need to start your morning or as a light meal. As a token of goodwill, I shall include a quick section on how to order tea or coffee at coffee shops in SG. We have so many different combinations and it is impossible to remember them all. Hence, some tips before the aunty at the shop starts to interrogate you …
How to order drinks in a Singaporean coffee shop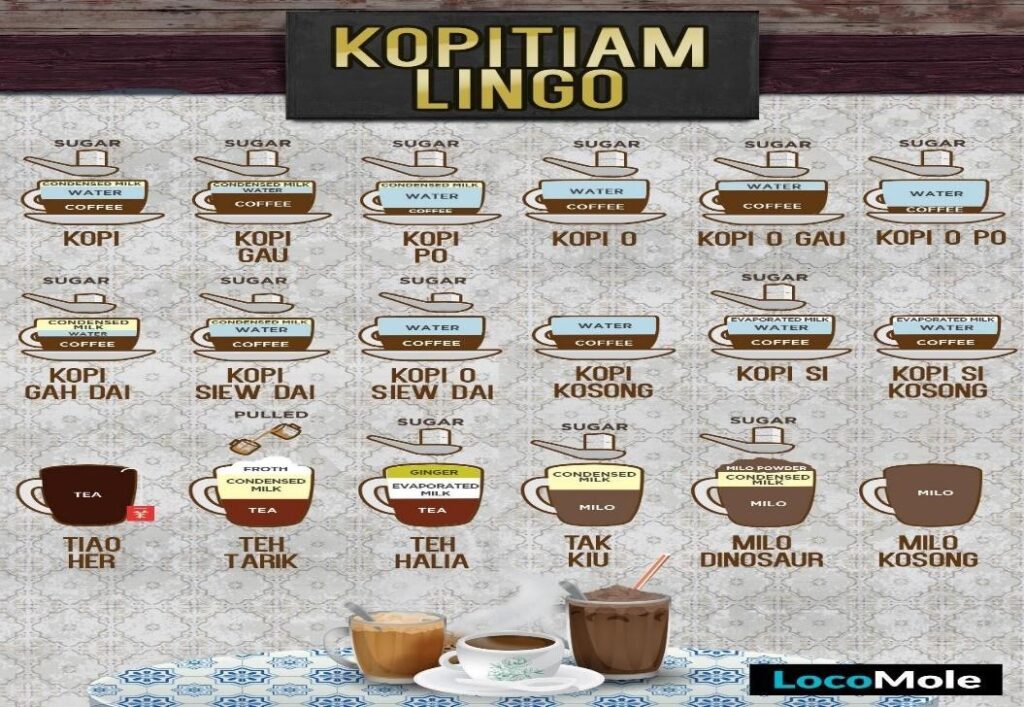 *If you want your drink cold, at "bing" (meaning "ice" in Chinese) at the end of your order. Example: Milo bing (iced milo).
Thank you for reading to the end! I hope this list of SG food helps you decide what you'd like to try next in the wonderful food utopia of SG when you come to visit 😊